Technology
Exclusive Masterclass ALEC ROSSSource: © Ruby BIRD & Yasmina BEDDOU
The industries of the Future
Source: © Ruby BIRD & Yasmina BEDDOU
USPA NEWS – Alec Ross was Hillary Clinton's Senior Advisor for Innovation when she was Secretary of State, and he helped craft her Groundbreaking Open Internet Agenda. Since leaving the State Department, Ross has traveled the World advising Businesses and Governments on Technology and Innovation Policy. Now, he has assembled his Conversations with Davos Regulars into a Fascinating Vision of the Future of Industry… Also, during the 2008 Presidential Campaign, Alec Ross played a Key Role in developing then-Sen. Barack Obama's Technology and Innovation Plan, convening more than 500 Advisors in the Process of cultivating the Candidate's Innovation Agenda…
Alec Ross was Hillary Clinton's Senior Advisor for Innovation when she was Secretary of State, and he helped craft her Groundbreaking Open Internet Agenda. Since leaving the State Department, Ross has traveled the World advising Businesses and Governments on Technology and Innovation Policy. Now, he has assembled his Conversations with Davos Regulars into a Fascinating Vision of the Future of Industry… Also, during the 2008 Presidential Campaign, Alec Ross played a Key Role in developing then-Sen. Barack Obama's Technology and Innovation Plan, convening more than 500 Advisors in the Process of cultivating the Candidate's Innovation Agenda…
His Father was an Attorney and Grandfather, Ray DePaulo, was the Commercial Minister at the American Embassy in Italy. Ross was born and raised in Charleston, West Virginia and in the Seventh gGade of Grammar School he moved to Rome, Italy for a Year to live with his Grandfather. Alec Ross worked as a Nighttime Janitor in Charleston at a Local Bar when attending College at Northwestern University. He graduated in 1994 with a B.A. in History… In 2000, he co-founded "One Economy", a Global Nonprofit that uses Innovative Approaches to deliver the Power of Technology and Information about Education, Jobs, Health care and other Vital Issues to Low-Income People…. Alec Ross also drove Efforts to aid other Countries through Digital Development Initiatives like wiring Schools, adding Wireless Capacity to Public Works, Text-Message Reminders to HIV Patients, and leap Frogging Communities from Cash Culture to Mobile Banking….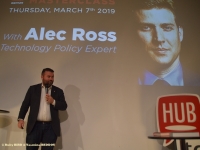 Vincent DUCREY Co-Founder, CEO HUB Institute
Source: © Ruby BIRD & Yasmina BEDDOU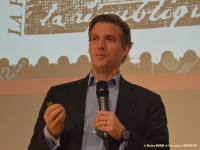 Alec ROSS Technology Policy Expert
Source: © Ruby BIRD & Yasmina BEDDOU
"The Industries of the Future" is a 2016 Non-Fiction Book already Published in 24 Languages and now in French "Les Industries Du futur" (FYP Editions), covering the Following Themes : Employment, AI, Big Data, Cybersecurity, Bitcoin, Skills, Blockchain, Biotech, Fintech, New Markets. In this Book, Alec Ross explores the Geopolitical, Cultural and Generational Changes that will be driven by the Key Industries over the Next Twenty Years. The Book explores Several Industries including Robotics, Genetics, Coding and Big Data. Alec Ross explores how Advances in Robotics and Life Sciences will change the Way we live (Robots, Artificial Intelligence and Machine Learning will have impact on our Lives).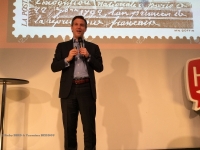 Alec ROSS Technology Policy Expert
Source: © Ruby BIRD & Yasmina BEDDOU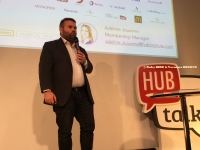 Vincent DUCREY Co-Founder, CEO HUB Institute
Source: © Ruby BIRD & Yasmina BEDDOU
Alec Ross also focuses on Globalization and Geopolitical Economics. He explores how Competitiveness and how Societies, Families and Individuals will need to thrive. He gives Attention to the Importance of Women stating that the States and Societies that do the most for Women are those that will be Best Positioned to compete and succeed in the Future. The Book also touches on how to prepare Children for "Success" in a World of Increasing Change and Competition. He turns to the "Code-ification" of Money, Markets and Trust. He describes the Transition from Cash to Mobile and Online Banking. He also discusses the Sharing Economy from eBay to AirBnB and then gives an Overview of BitCoin and Blockchain Technology. Alec Ross also focuses on Cybersecurity and the Weaponization of Code with a Focus on a Move from Cold War to "Code War."…
Source : Exclusive Masterclass with Alec Ross (American Technology Policy Expert) by HUB Institute @ Paris Headquarters, on March 7, 2019. animated by Vincent Ducrey (Co-Founder & CEO HUB Institute)
Ruby BIRD
http://www.portfolio.uspa24.com/
Yasmina BEDDOU
http://www.yasmina-beddou.uspa24.com/
Keywords: Campaign 2008, Hillary Clinton, Barack Obama, Les Industries Du Futur, Fyp Editions, The Industries Of The Future, Hub Institute, Exclusive Masterclass, Alec Ros, American Technology Policy Expert, Yasmina Beddou, Ruby Bird
Liability for this article lies with the author, who also holds the copyright. Editorial content from USPA may be quoted on other websites as long as the quote comprises no more than 5% of the entire text, is marked as such and the source is named (via hyperlink).