By Phil Hall
Want to buy a decent camera, but don't want to break the bank? The good news is that there are some cracking cameras out there if you're on a tight budget, including some great entry-level DSLRs, sleek-looking mirrorless cameras, advanced high-end compacts, bridge cameras with huge zoom lenses, not to mention travel zooms and pocket compacts.
And while some of these cheap cameras may not be the latest and greatest models available right now, they still deliver the goods.
We've compiled a selection of the best budget cameras going, so whether you want something to simply slot in your pocket for the odd snap that will be better pictures than your smartphone ever can, or a camera you can get a bit more creative with, you'll find it here.
If you need a bit more help figuring out what kind of camera you need, then read this article: What camera should I buy?
And if you want to spend a little more money, then check out our other camera buying guides at the bottom of the page.
Best cheap cameras in 2018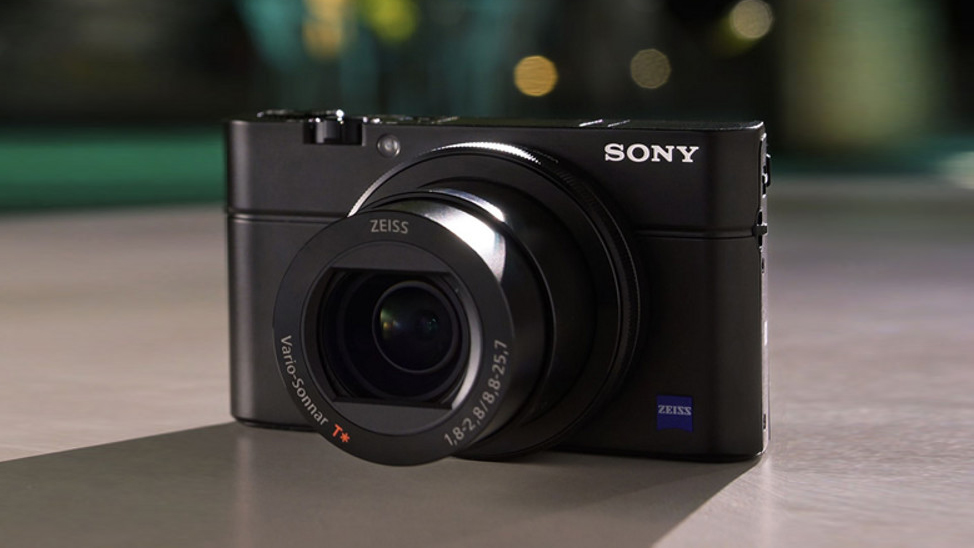 Sony's latest camera in its RX100 line, the RX100 VI, is one of our favourite compact cameras right now, but there's no getting away from the fact that it's a pricey option. The good news is that all of the previous generation models are still available at much more tempting prices. Sitting in the middle of this is the RX100 III and while it might not offer some of the latest features it's still a great compact at a bargain price. The large 1.0-inch sensor delivers excellent levels of detail, with the broad and fast range of the zoom lens making it a versatile travelling companion. There's also a built-in pop-up viewfinder and a tilting screen (though its not touch-sensitive). Take into account the sleek, premium finish and it all adds up to a great compact camera at a great price.
Read our in-depth Sony Cyber-shot RX100 III review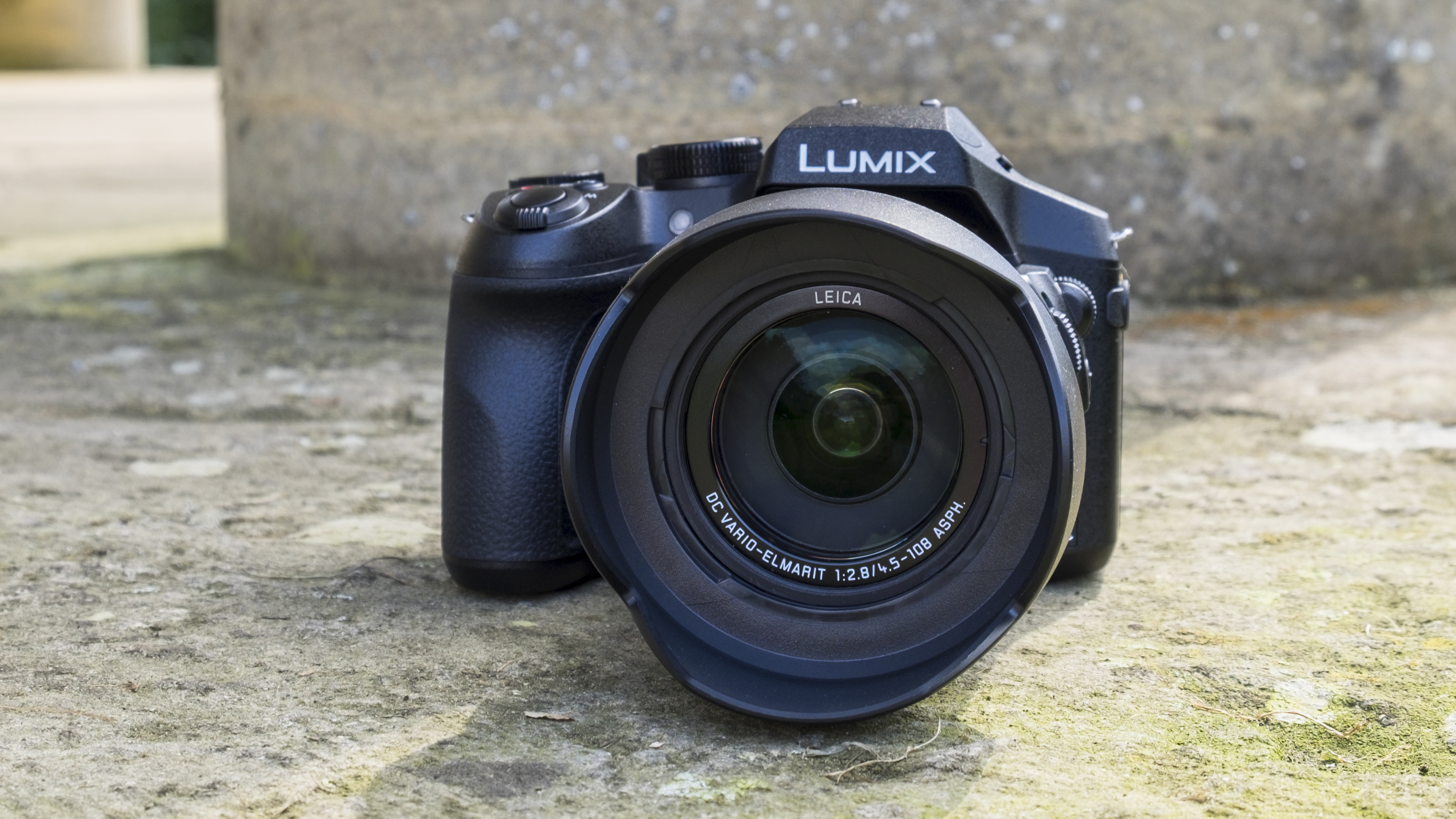 Launched back in 2015, the Lumix FZ300 (also known as the Lumix FZ330 outside the US) it's now getting on a bit, but that makes it an even better value option as it's come down in price so much since launch. The 25-600mm zoom range offers plenty of reach, meaning you can fill the frame with your subject, no matter how far away it is. While the zoom range is pretty typical for a bridge camera, what's impressive is the constant f/2.8 maximum aperture – really useful when you're shooting at the longer end of the zoom range and helping you isolate your subject. There's also a splash-resistant body, a vari-angle touchscreen and high resolution electronic viewfinder. That's not forgetting Wi-Fi connectivity and a decent image stabilization system. A great budget buy for the novice or enthusiast photographer.
Read our in-depth Panasonic Lumix FZ300 / FZ330 review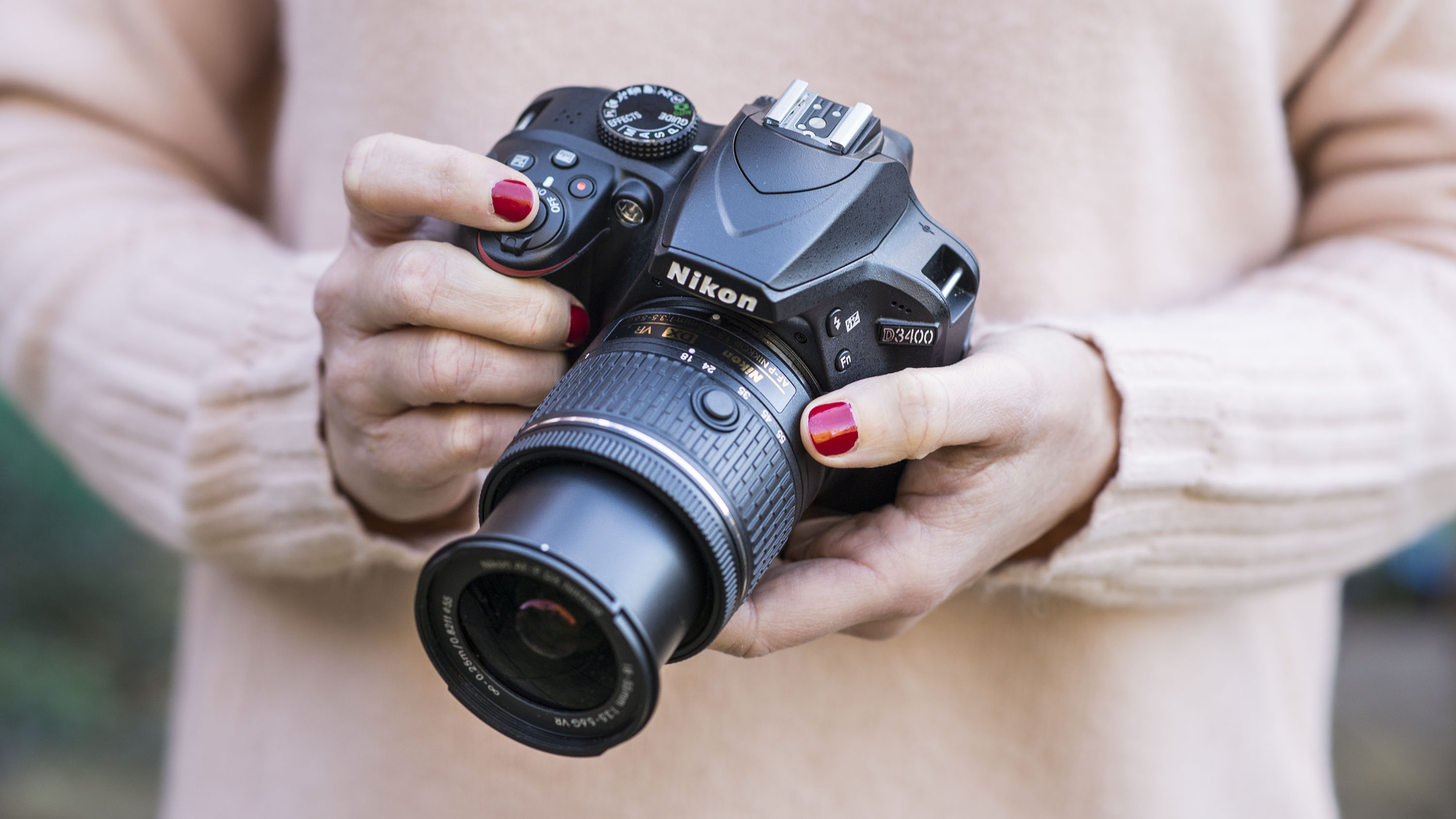 If you're looking for your first DSLR, then Nikon's D3400 is hard to beat when it comes to price. It might not have the most comprehensive specification, but simply put, the D3400 ticks a lot of boxes for first time users. The large 24MP APS-C sensor delivers great images that are rich in detail, it's easy to use thanks to the useful onboard Guide Mode, has an impressive battery life and is backed-up by an impressive array of lenses and accessories. A great DSLR that also happens to be great value, and with the announcement of the D3500, you should be able to find it at an even better price.
Read our in-depth Nikon D3400 review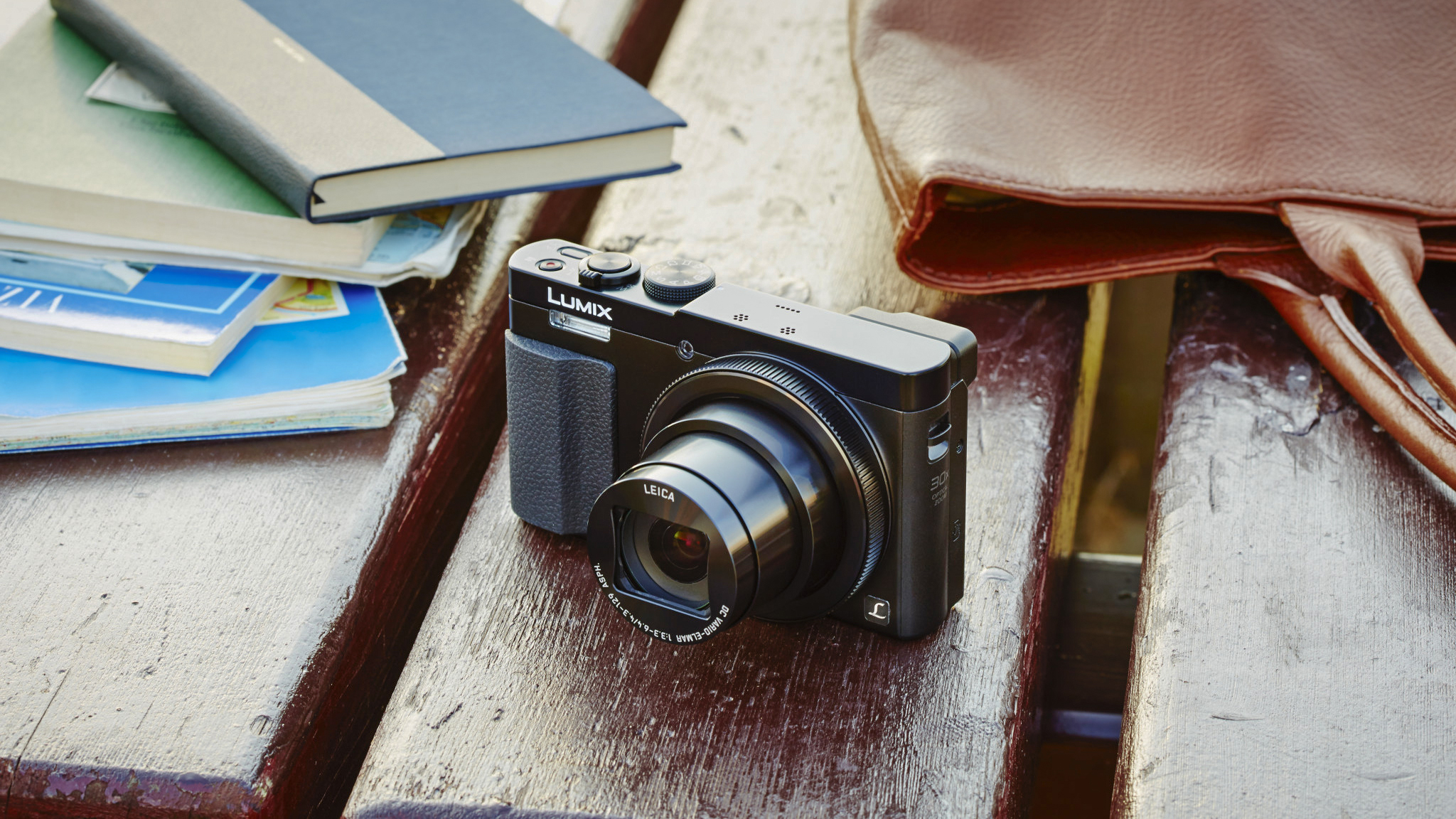 Panasonic's Lumix ZS / TZ series of compacts has long dominated the compact travel zoom market, and that's still the case with the ZS50 (known as the TZ70 outside the US). While it may be eclipsed by its larger-sensor siblings, the ZS100 / TZ100 and ZS200 / TZ200, the ZS50 / TZ70 has the advantage of packing a huge 30x zoom into a pocket-sized body. There's even space for a (modest) electronic viewfinder, ideal for when the lighting makes it tricky to compose or review shots on the rear screen. You can use the camera like an advanced point-and-shoot compact, simply leaving it in auto for the camera to take care of settings, or you can shoot high-quality raw files, and make your own decisions about aperture and shutter speed.
Read our in-depth Panasonic Lumix ZS50 / TZ70 review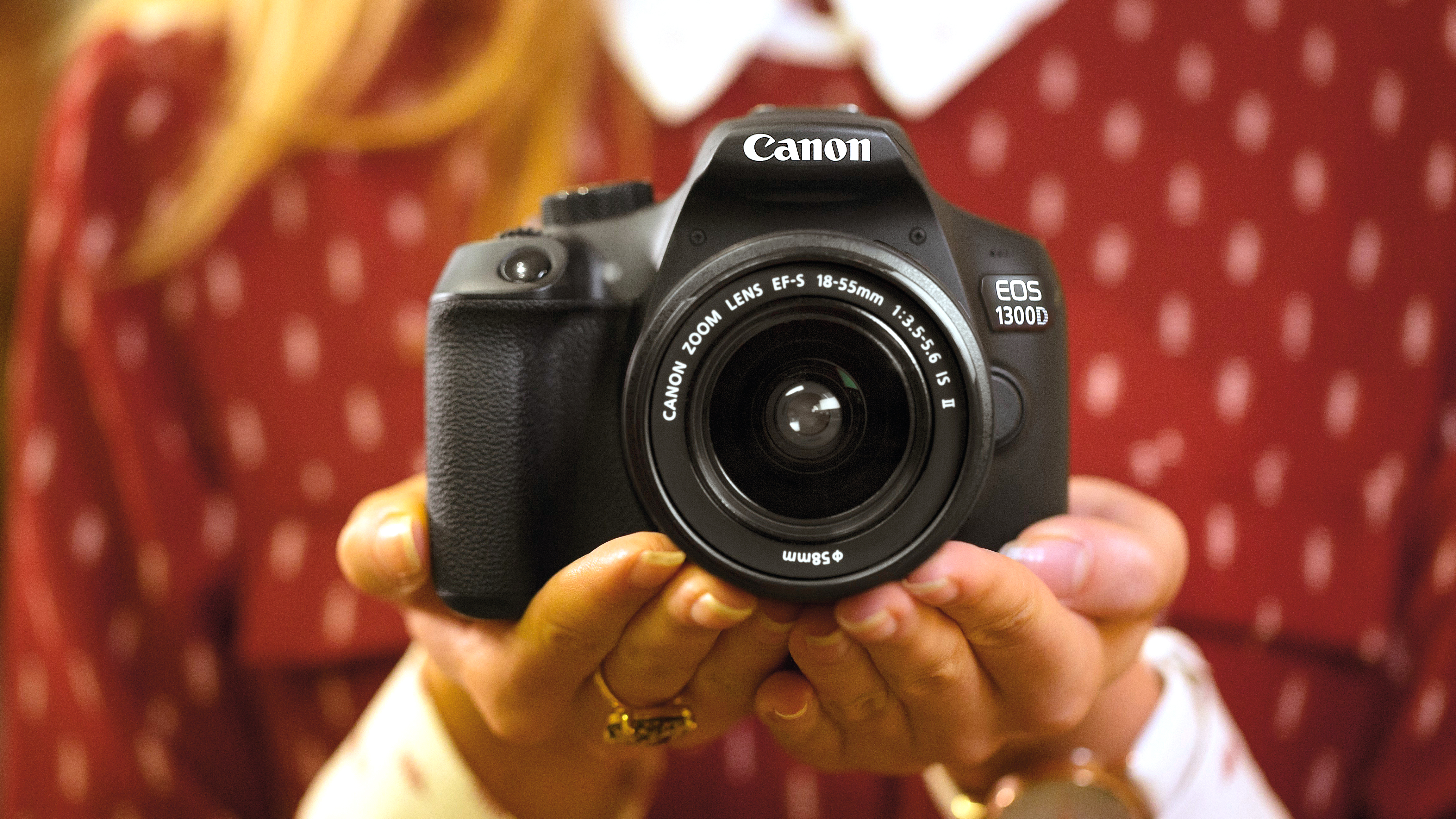 The EOS Rebel T6 (known as the EOS 1300D outside the US) is one of Canon's most affordable DSLRs in its line-up and while it doesn't share the same latest tech as newer models, it's still a great a solid choice for first time users. The 18MP sensor is starting to show its age a little, while the AF in live view is a bit on the slow side, but when you consider you're getting a DSLR for the price of an average compact, then it doesn't look too bad at all. It's actually better than the newer EOS 4000D as well.
Read our in-depth Canon EOS Rebel T6 / EOS 1300D review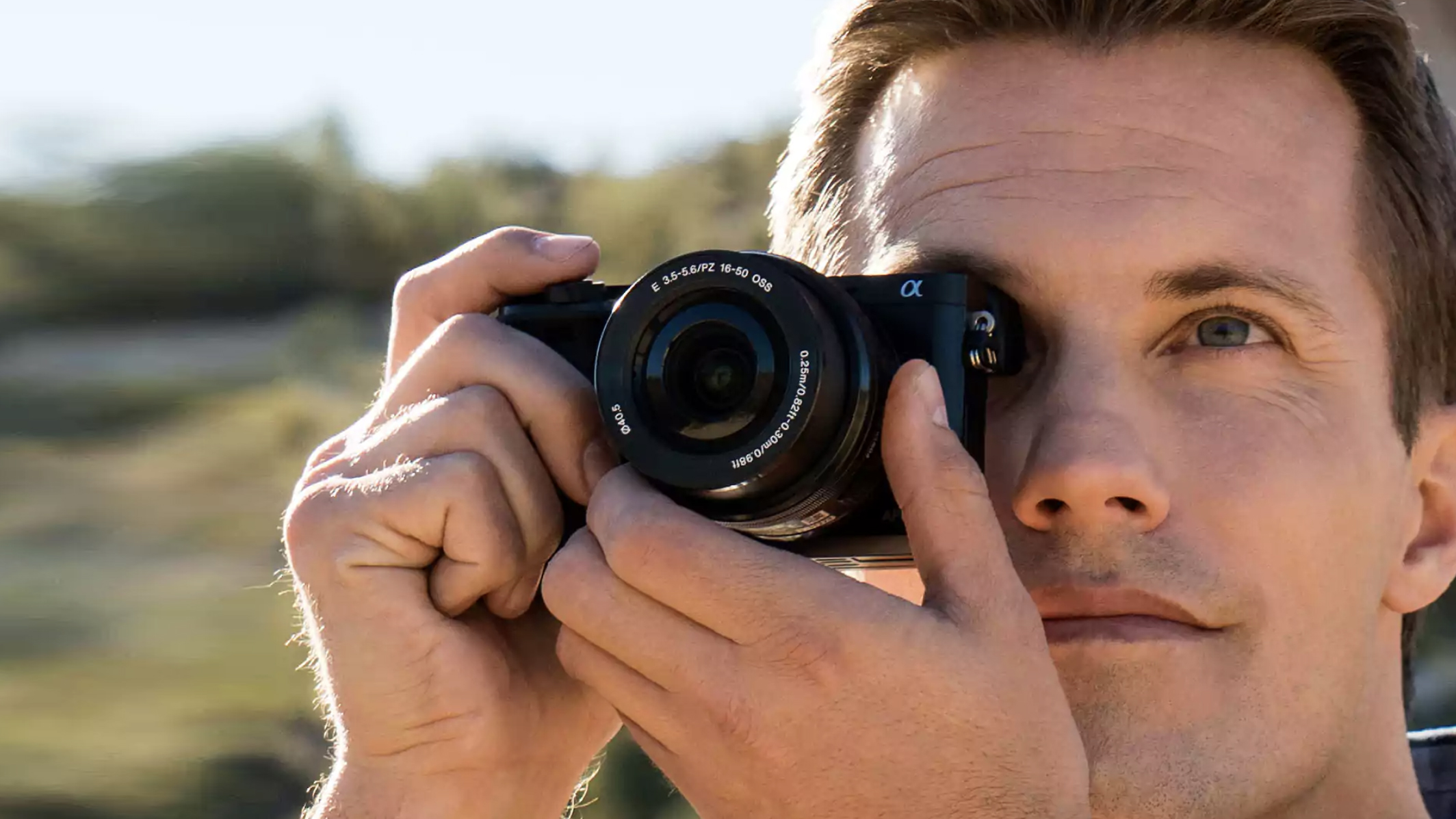 Don't let the price fool you. The A6000 costs the same as other entry-level DSLR and mirrorless cameras, but it's an advanced and powerful camera that has only dropped to this price through being on the market since 2014. So it may be old, but most of the specification still looks pretty fresh today. This includes a 24MP sensor, a fast hybrid 179-point autofocus system and continuous shooting at 11 frames per second (fps). Its age shows in other areas, though; it only shoots 1080p Full HD video and not 4K, and the screen isn't touch sensitive. And while it's cheap enough, the A6000's high-end features make it a little advanced for beginners.
Read our in-depth Sony Alpha A6000 review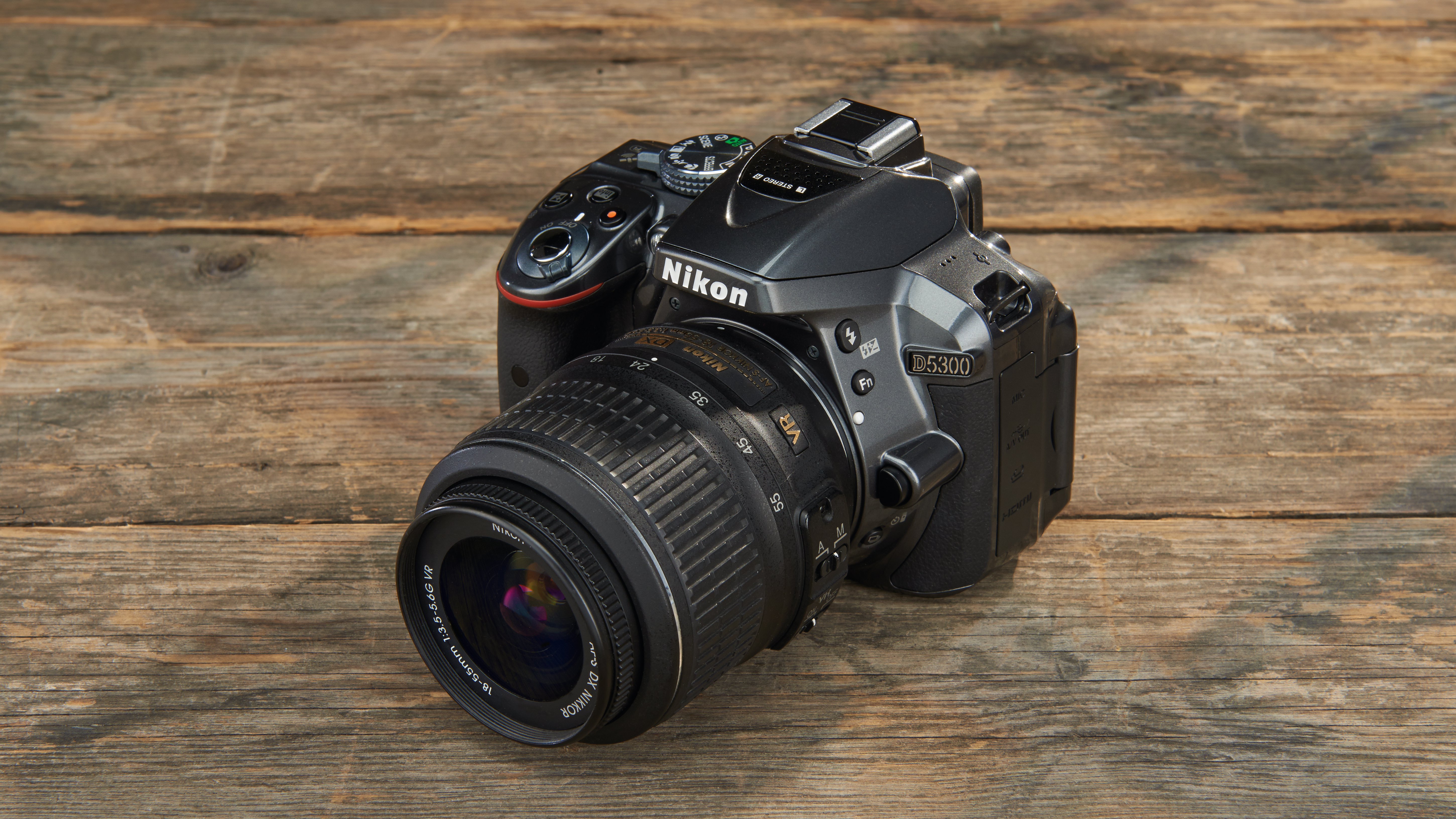 The D5300 was around for little more than a year before the D5500 technically replaced it, which has in turn been replaced by the D5600. It shares the same 24.2MP sensor with an identical maximum ISO25,600 sensitivity as the D5500, whilst the D5300's EXPEED 4 image processor and 39-point autofocus system have also been carried over to its replacement. Whilst the D5300 doesn't sport fancy touchscreen control, you do get GPS instead. The D5300's 600-shot battery life has since been beaten by the D5500, but it'll still outlast a Canon EOS Rebel T6i / 750D. All in all, it may not be the latest entry-level DSLR, but the D5300 is still a smart buy.
Read our in-depth Nikon D5300 review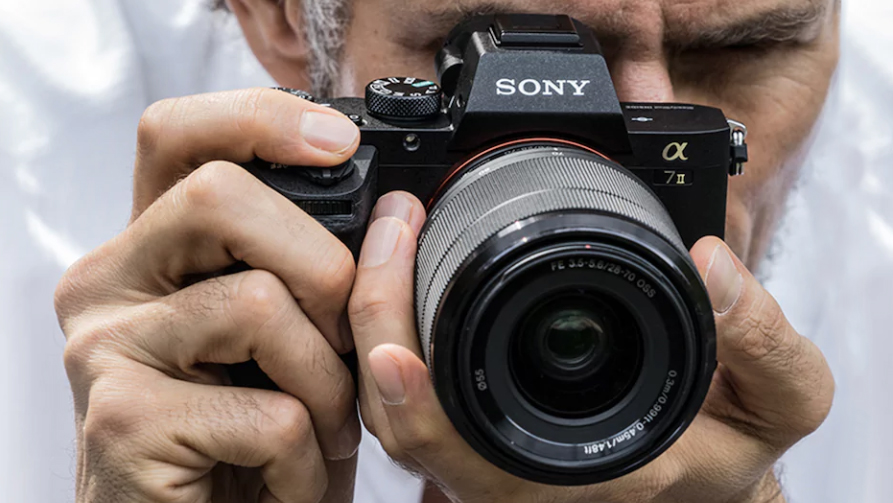 The new Alpha A7 III is one of our favorite cameras rights now, packing in a great performance for a brilliant price. If your budget can't stretch to it though, the Alpha A7 II is still worth a look as in some cases, it's half the price of its newer sibling. It might not have all the latest features, but you still get a very good 24.3MP full-frame sensor, a very capable AF system and excellent image stabilization. Handling isn't quite as refined though as the newer camera, but for the incredibly tempting price, this can be overlooked. You'll be hard pressed to find a better camera for your money. That is unless you want something even cheaper in the shape of the original Alpha A7.
Read our in-depth Sony Alpha A7 II review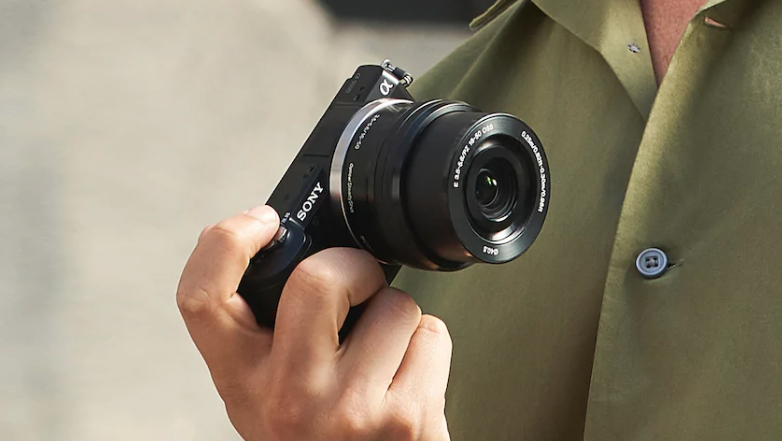 Despite being well over two years old, the Alpha A5000 is still a great buy for those looking for a simple to use mirrorless camera. Not only that, but it's also incredibly compact – even the 16-50mm lens isn't that large considering the focal length. There's a decent-sized tilt-angle screen, but the resolution is looking a bit behind the times now, while there's no viewfinder. That said, it's easy to use, while the Wi-Fi connectivity only adds to its appeal.
Read our in-depth Sony Alpha A5000 review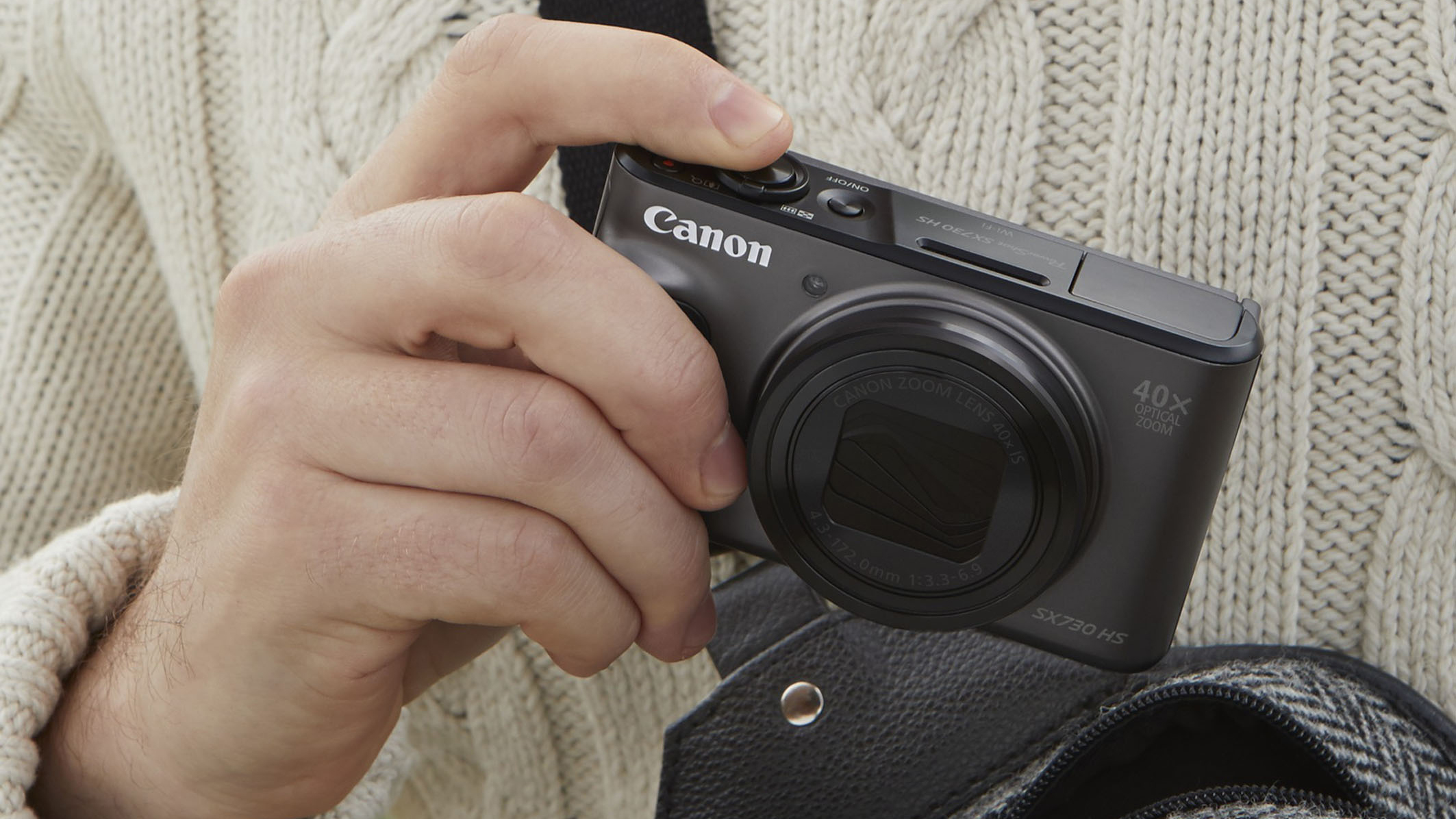 The PowerShot SX710 HS is appealing to both absolute beginners and to those with a little more experience of photography. On the back is a small mode dial which enables you to quickly switch between different exposure modes, including full manual and semi-automatic modes for those who want to take control, plus fully automatic and scene modes. The 30x optical zoom covers an excellent range of focal lengths and gives plenty of flexibility for the average holiday shooter. There's no touchscreen however, but you can't really complain at the price. A nicely capable camera for those who just want a point and shoot compact with a long focal length zoom range.
Read our in-depth Canon PowerShot SX730 HS review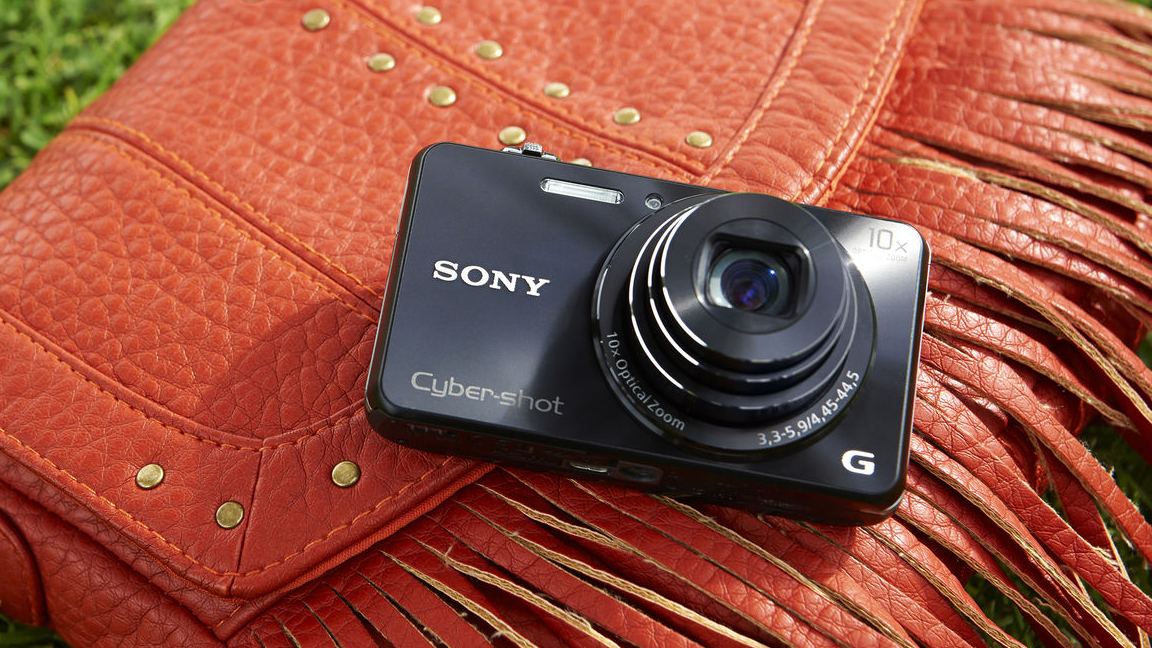 If you're wanting a compact camera that can do a better job than your smartphone the Cyber-shot WX220 ticks a lot of boxes, especially when you consider the extra flexibility offered by the 10x optical zoom, running from 25-250mm. Images are bright and punchy, with decent detail – ideal for sharing online or printing at typical sizes – while it's nice to see Wi-Fi connectivity included as well. The 2.7-inch screen is a little on the small side, but that does help to keep the dimensions of the camera to a pocket-friendly size. The WX220 may not have lots of bells and whistles, but what it does do, it does well.
Read our in-depth Sony Cyber-shot WX220 review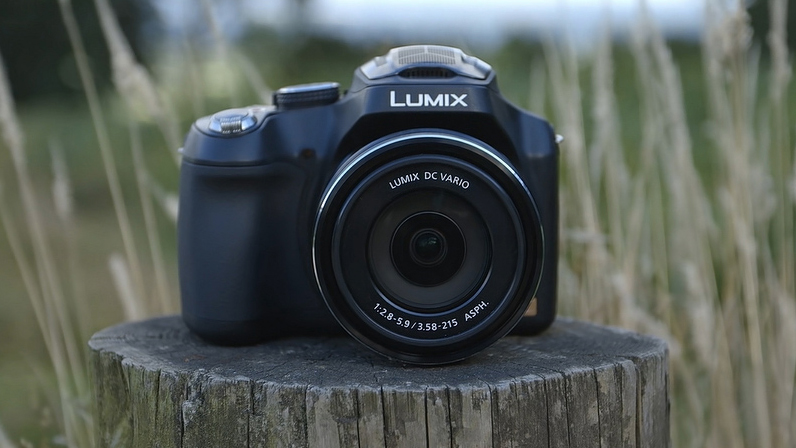 Despite it being one of the cheapest bridge cameras available, you still get a lot of camera for your cash with the Panasonic Lumix FZ70 (known as the FZ72 outside the US). Let's start with the lens. The Lumix FZ70 packs in a staggering 60x optical zoom, running from an impressively ultra-wide 20mm-equivalent to 1200mm, so you won't have any excuses for not filling the frame. You also have the option of full manual control (as well as a host of helpful auto modes), raw format shooting, and decent image quality from a sensor this size. Downsides? While there is an EVF, it's not the best quality, and there's no touchscreen functionality or wireless connectivity.
Read our in-depth Panasonic Lumix FZ70 / FZ72 review
Best compact camera
Best waterproof camera
Best travel camera
Best bridge camera
Best entry-level mirrorless camera
Best mirrorless camera
Best entry-level DSLR
Best DSLR
Best action camera
Best instant camera